Smart
The intelligent smart metering system
netVendor Smart is an Intelligent Metering Solution which provides an effective data collection layer between the smart meter infrastructure and the utility's billing and management system. The system enables secure, reliable communica- tion to the metering infrastructure, using industry standard protocols together with optimised methodologies to improve throughput and allow for future technological enhancements.
Our system provides not only standard smart metering information but also advanced features to support monitoring of entire reticulation systems via a Google Maps™ based GIS platform. Load balancing and power quality information can be provided allowing the system to send alarms on interruptions, tampering and failures. Additionally, it can be used to manage the load on the grid through advanced load control technology. At its core the system is built for efficient communication and network management, providing transparent information on the system status and efficient tools for troubleshooting.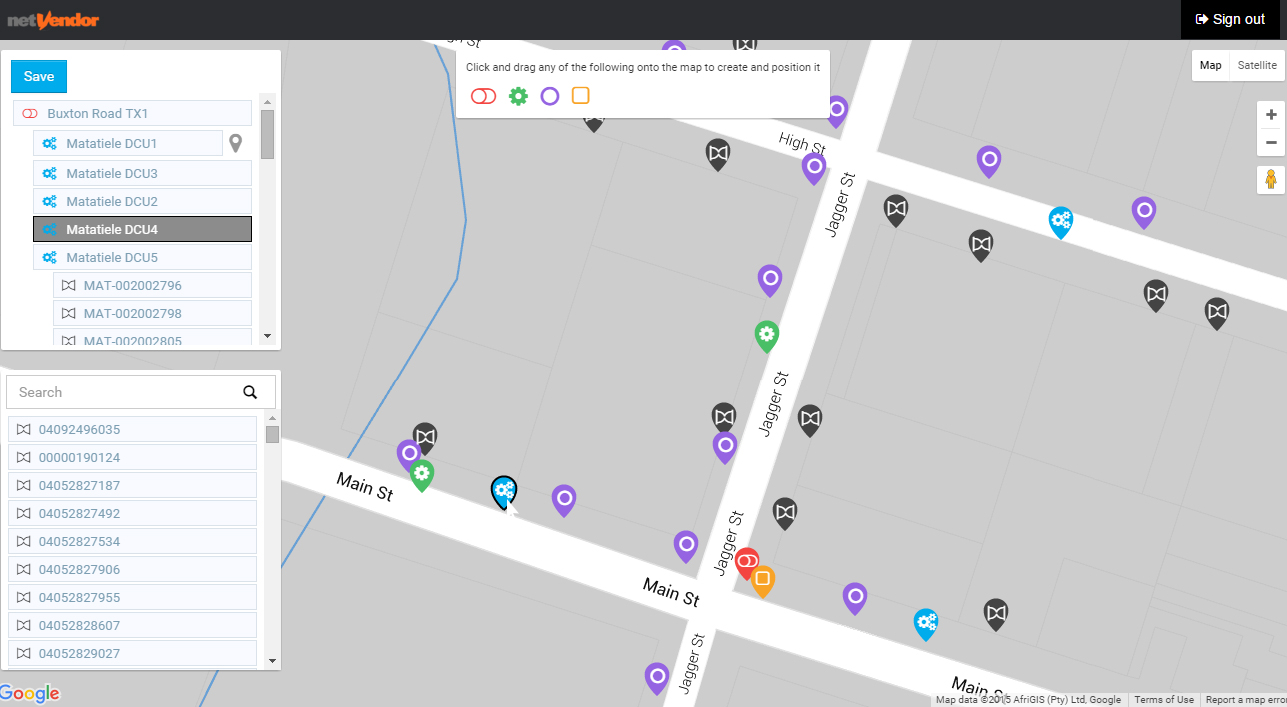 Smart Infrastructure map with Real-time data updates.
Features
Accurate real-time energy consumption, event and power quality information to business and network management systems
Scalable solution from piloting to large smart metering systems
Applications to support efficient metering infrastructure management
Future-proof solution: standard interfaces to meters (DLMS, IEC1107 etc.)
netVendor Smart is designed to streamline your business processes
The solution offers distinct benefits to utilities, energy consumers and the environment: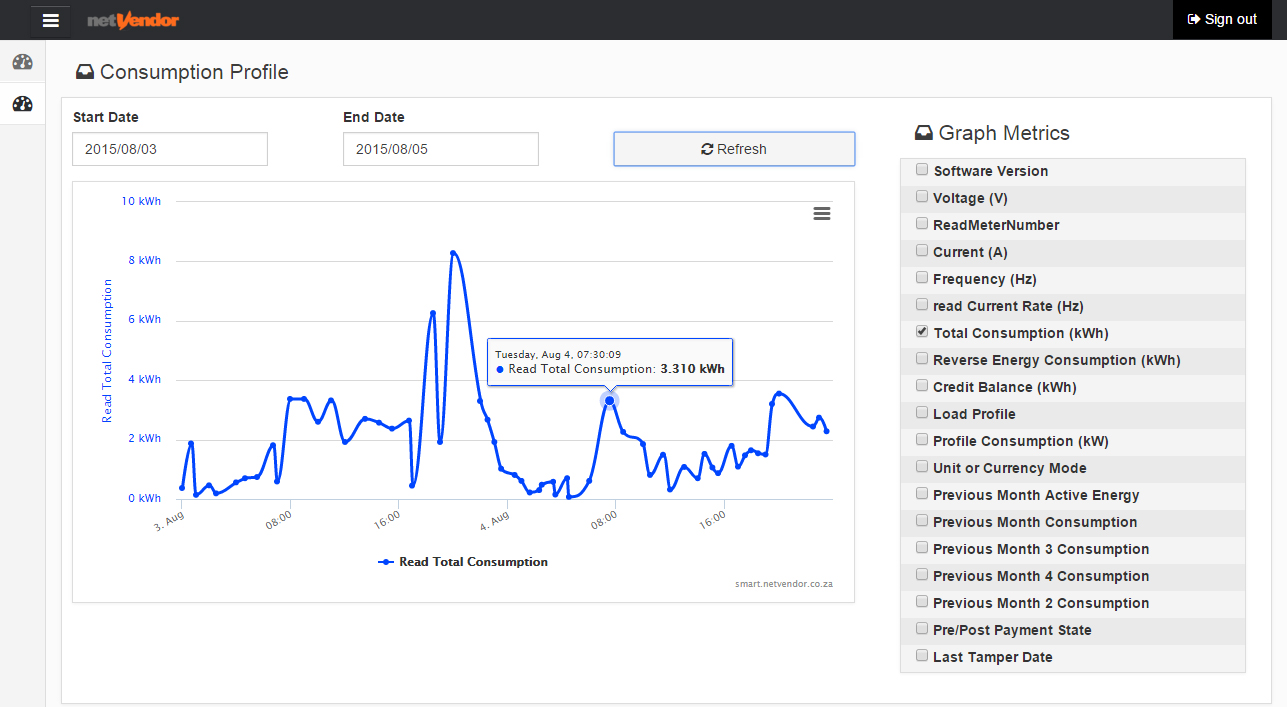 Powerful time-based data analysis.
Energy efficiency
Both the utility and energy consumer benefit from precise information that enables greater control over energy distribution and use. From home energy management applications to automated demand response, netVendor Smart helps make energy efficiency a reality from distribution to end use.
Load management
netVendor Smart helps accurately forecast demand and provide new insights into consumer behavior. With detailed and accurate load profile information, utilities can use automated demand response tools and consumer pricing programs to help reduce peak demand and manage the load curve.
Operational efficiency
From systems integration to field operations, netVendor Smart provides process automation and information needed to improve resource management across the utility organization. And because infrastructure, IT and communication services can be managed in a single end-to-end platform, implementation and operation of the technology are also efficient.
Integrated multi-energy
Integrating the processes used in operating, monitoring and managing multiple energy forms provides many benefits. For example, the flexible netVendor Smart platform can be used for a variety of advanced metering operations, including electricity, gas, water and heating.
Customer satisfaction
Consumers want reliable and affordable energy from their utility. netVendor Smart is engineered to assist the utility in delivering both – from outage management and predictive maintenance to multi-tariff pricing and efficiency programs — in ways that engage the consumer with information and choices.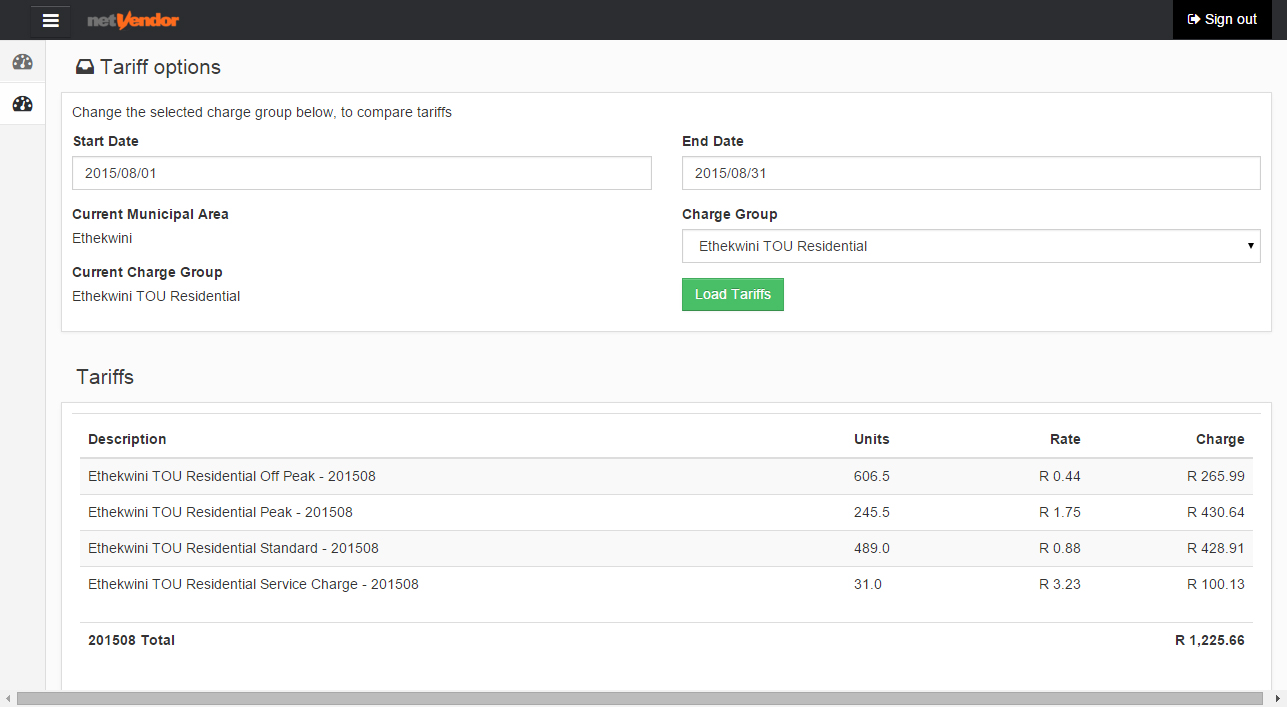 Tariff Comparison based on historical consumption.
Revenue protection
netVendor Smart assists in reducing non-technical losses and identifies theft with a wide range of advanced tools. Utilities can remotely switch power supply on and off, improve debt collection processes and respond quickly to abnormalities which may threaten revenue.